The HTML, HEAD, and BODY are the basic elements of an HTML document.


<html>
<head>This content is not displayed</head>
<body>This content is displayed</body>
</html>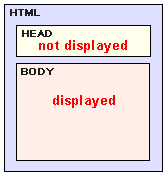 HTML element <html> - </html>

The HTML element is the root element. This element tells the browser that the document is HTML.

HEAD element <head> - </head>

BODY element <body> - </body>

The BODY element defines the document body. The contents of this element are displayed by the browser.
Example